Mooncakes in Sydney: An Exquisite Gastronomic Journey with Amour Desserts
Looking for mooncakes in Sydney? You're at the right place!
In the enchanting city of Sydney, where the glistening waters of the harbor meet the vibrant urban landscape, the anticipation of the Moon Festival fills the air.
For the esteemed Chinese community in Sydney, this auspicious occasion holds a cherished place, marked by the joy of cultural traditions and the delightful allure of mooncakes.
Embark with us, Amour Desserts, on an extraordinary gastronomic journey, as we present an exquisite selection of mooncakes that will transport you to a realm of tantalizing flavors and cherished memories.
Indulging in Tradition: Classic Mooncakes Reimagined
Indulge in the captivating elegance of our Classic Traditional Mooncakes, meticulously reimagined to pay homage to time-honored recipes.
Each bite unveils the velvety lotus paste that encapsulates the sweetness of nostalgia, the comforting charm of red bean, and the delightful tropical notes of pineapple lotus.
Amidst the symphony, discover the delightful surprises of double yolk and the delightful nutty medley of mixed nuts - a journey that evokes cherished memories and the warmth of family gatherings.

Browse our Traditional Mooncakes here.  
Shanghai Mooncakes that Transcend Boundaries
Embrace our Shanghai Mooncakes that comes in either lotus paste or red bean paste.
These mooncakes symbolize unity, where traditions from distant lands intertwine, and each bite becomes a bridge that connects hearts.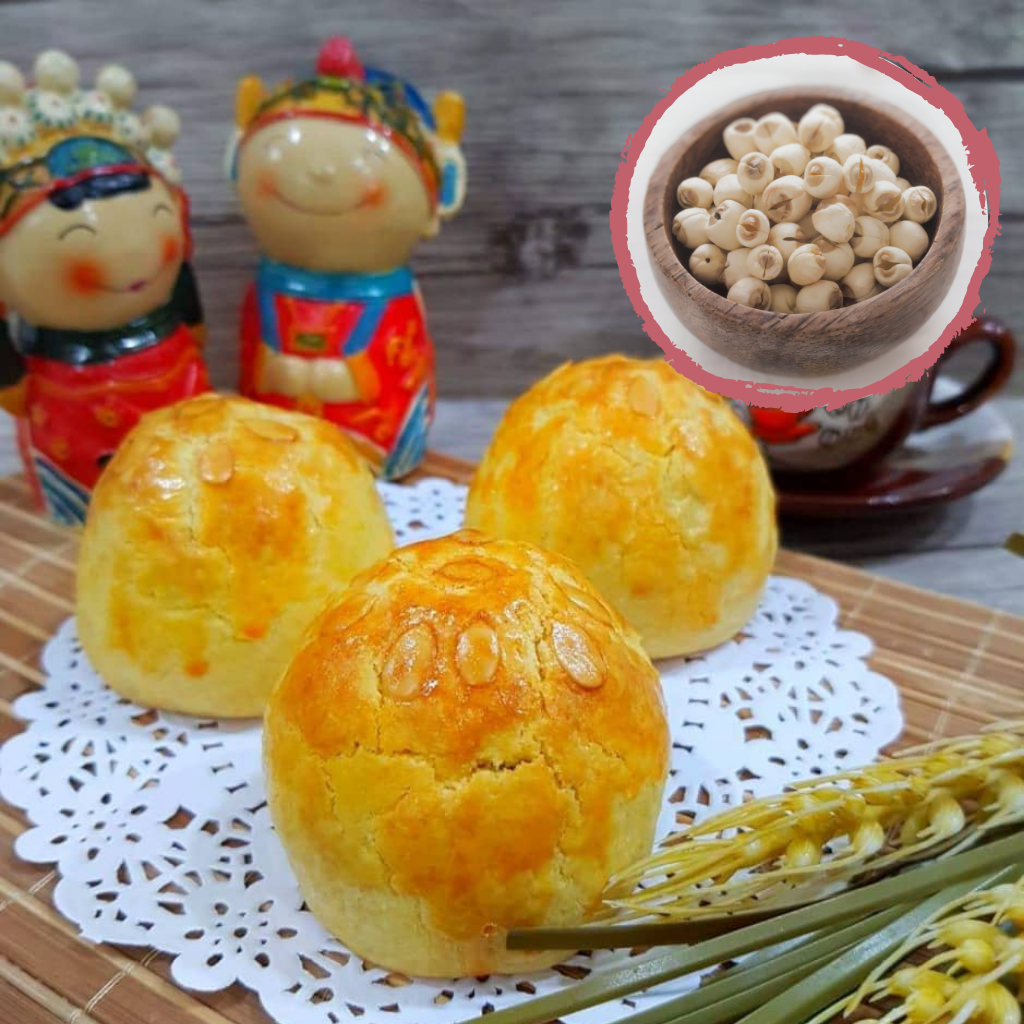 Browse our Shanghai Mooncakes here. 
Nyonya Sambal Symphony: A Fiery Overture
Prepare your taste buds for a fiery overture with our Nyonya Sambal Mooncakes.
As you lift the veil of tradition, be enthralled by the spicy shrimp paste that ignites the senses, harmonizing with the richness of salted egg yolk.
A symphony of flavors awaits those who dare to embark on this gastronomic adventure, where tradition meets bold creativity.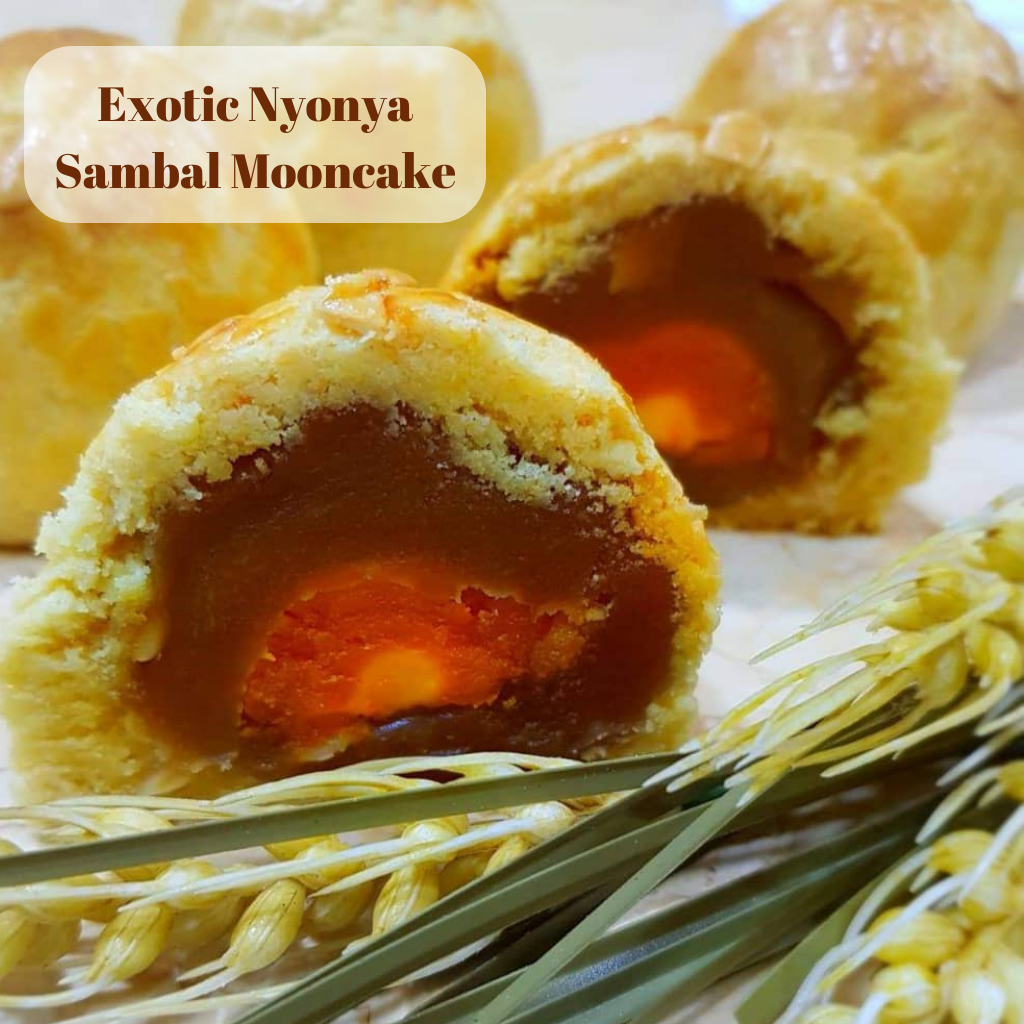 See our Nyonya Sambal Mooncakes here. 
Taiwanese Temptations: 3Q Mooncakes to Enchant the Soul
Embrace the enchanting allure of our Taiwanese Mooncakes, a delightful medley of red bean paste and the tender embrace of pork floss.
As you savor each bite, experience a symphony of sweet and savory notes that captivate the soul.
With each mooncake, we weave the essence of Taiwan into a melodic creation that resonates with your heart.
Egg-citing Traditions: Salted Egg Yolk Pastry Crescendo
Celebrate the crescendo of tradition with our Salted Egg Yolk Pastry Mooncakes, where the golden hues of the egg yolk shine like a radiant moon.
Choose from the divine lotus paste or the tender red bean paste, as each mooncake tells a tale of devotion and craftsmanship.
These delightful pastries will elevate your Moon Festival experience to new heights.

See our Salted Egg Yolk Pastry Mooncakes here.
 
Crafted with Amour: A Symphony of Mooncakes
At Amour Desserts, our mooncakes are crafted with passion and devotion, a symphony that celebrates the rich cultural heritage and traditions of Malaysia, Singapore, and China.
Each mooncake carries the essence of love and dedication, as we handcraft them with precision upon your order, ensuring freshness and the embodiment of the festival celebrated back home. 
🥮 Browse our entire Handmade Mooncake Range Here
A Feast of Togetherness: Sharing Mooncake Delights
The Moon Festival is a time of unity and togetherness, and Amour Desserts cherishes the opportunity to bring families and friends together.
Embark on an epicurean journey, exploring mooncakes that celebrate your diverse culinary heritage, from Classic Mooncakes to Shanghai Mooncakes, Nyonya Sambal Mooncakes, Taiwanese Mooncakes, and Salted Egg Yolk Pastry Mooncakes.
Each creation is an ode to tradition and innovation, crafted with love to celebrate unity, family, and cultural appreciation.
Savor the joy of the festival as you indulge in our mouthwatering mooncakes, each bite a harmonious ensemble of flavors and memories.
May the Moon Festival celebrations in Sydney be a grand crescendo of delight, shared with loved ones and embraced with the spirit of togetherness.
Happy Mid-Autumn / Moon cake Festival!
Explore Further:
🥮 Browse our Mooncake Range Here.
🍰 Browse our Indonesian Kueh Lapis Range
See what 500+ others have said about Amour Desserts ⭐⭐⭐⭐⭐
🍪 Browse our Traditional Handmade Cookies Here
Frequently Asked Questions (FAQs) About Amour Desserts' Mooncakes in Sydney, Australia
What are mooncakes, and why are they significant in Sydney?
Mooncakes are traditional pastries cherished during the Moon Festival, a culturally important celebration observed by community of Chinese Malaysians, Singaporeans, and Southeast Asian community in Sydney. They symbolize family unity and togetherness.

What types of mooncakes does Amour Desserts offer in Sydney?
Amour Desserts offers an exquisite selection of mooncakes, including Classic Traditional Mooncakes with lotus paste, red bean, and double yolks, Fusion Mooncakes blending lotus paste and red bean, Nyonya Sambal Mooncakes with spicy shrimp paste, Taiwanese Mooncakes with red bean paste and pork floss, and more. Browse our full range of mooncakes here.

Are the mooncakes at Amour Desserts in Sydney handmade?
Absolutely! Amour Desserts takes pride in handcrafting each mooncake upon order, ensuring the highest quality and authentic taste.

Can I conveniently order mooncakes online from Amour Desserts in Sydney?
Certainly! Ordering mooncakes from Amour Desserts is a breeze. Simply visit our website, choose your favorite mooncakes, and opt for postage to Sydney.

Are the mooncakes at Amour Desserts less sweet to accommodate different preferences?
Indeed! Amour Desserts thoughtfully makes their mooncakes with reduced sweetness, catering to the Southeast Asian palate for a truly delightful and authentic experience.

Does Amour Desserts offer special mooncake combinations that make great gifts in Sydney?
Absolutely! Amour Desserts provides special mooncake combinations, making them perfect and thoughtful gifts for your loved ones during the festive season. See our Assorted Mooncake Box that contains our best-selling mooncakes.

Are Amour Desserts' mooncakes in Sydney free from preservatives?
Yes, Amour Desserts takes pride in creating mooncakes that are free from preservatives.

Can I find traditional mooncake flavors like lotus paste and red bean at Amour Desserts in Sydney?
Definitely! Amour Desserts celebrates tradition by offering classic traditional mooncake flavors like lotus paste, red bean, and other timeless favorites, evoking cherished memories of home. Browse our full range of mooncakes here. 
We deliver our Authentic Handmade Mooncakes across many suburbs in Melbourne. We also organize mooncake postage across Australia - to regional Victoria, and interstate including other major Australian cities such as Sydney, Brisbane, Perth, Canberra, Adelaide, Darwin & Hobart.